01 Oct

Careful with Your SSN/With the Insurance Co & Homegrown Pineapple
Welcome to the Newsletter
---
Rana Law Group Newsletter
In this issue:
Do Not Give Your SSN Out
Careful What You Tell the Insurance Company
Just for Fun: Homegrown Pineapple
---
Do Not Give your Social Security Number Out (Yes, even at the Doctor's Office)
As part of injury cases, we typically get medical records for our client's treatment.  Often, we come across intake documents that request private information such as a client's social security number.  This is really troubling because many people do not realize when a person files an injury case, the person waives HIPAA Privacy.  Those records are then sent to insurance companies, defense lawyers, other doctors (including the defense doctor) and can even be used as evidence in a trial.  While some people take the proper precautions by redacting the sensitive data, many do not.  With the huge uptick in the number of entities (particularly healthcare facilities) getting hacked, it is easy for your private information to end up online for hackers to use.
Our advice: don't fill it in!  Almost no place that requests your social security number actually needs it.  Many insurance companies, leery of getting sued for a hack, realize this information is no longer useful and do not use it.  Look no further than your health insurance card, especially if you have Medicare.  The card now has a series of numbers and/or letters.  Medicare used to be the biggest offender – a person's Medicare number was their social security number followed by a letter.  Imagine losing your wallet or getting it stolen and then finding out that someone stole your identity.  Terrifying!
If asked, simply skip the question and, if someone insists, ask why they need it.  Chances are, the person is simply doing their job but probably will not be able to articulate a good reason for why they need it.  Simply inform the person you are not at liberty to provide the full social.  If you are required to type in a response, you can put in all zeroes or the last four numbers (using the format XXX-XX-0000).  At least this ensures any potential issues are minimized if this entity gets hacked.  In today's digital age, it is better to be safe than sorry!
Careful What You Tell the Insurance Company
We were recently hired on a personal injury case just four days after the crash occurred.  As is our custom, we send over a letter of representation to the insurance company for the at-fault party and request they send over anything related to our client in their possession, including anything the client already signed.  To our complete shock, the insurance company produced a report from "Assured Intelligent Investigation" which had all sorts of information about our client which the person would absolutely NOT want the insurance company to know.  Below is just some of the information they obtained but this level of knowledge can potentially hurt a person's injury case because the insurance company obtains information that they may not otherwise have about your claim.  Additional information is almost always used against the injured person so be careful if you are asked to sign anything by an insurance company.  While most people know the Miranda warning by heart because of crime and legal drama shows, this can also be helpful to keep in mind for an injury (civil) case: "You have the right to remain silent.  Anything you say can and will be used against you in a court of law.  You have the right to speak to an attorney and to have an attorney present during any questioning".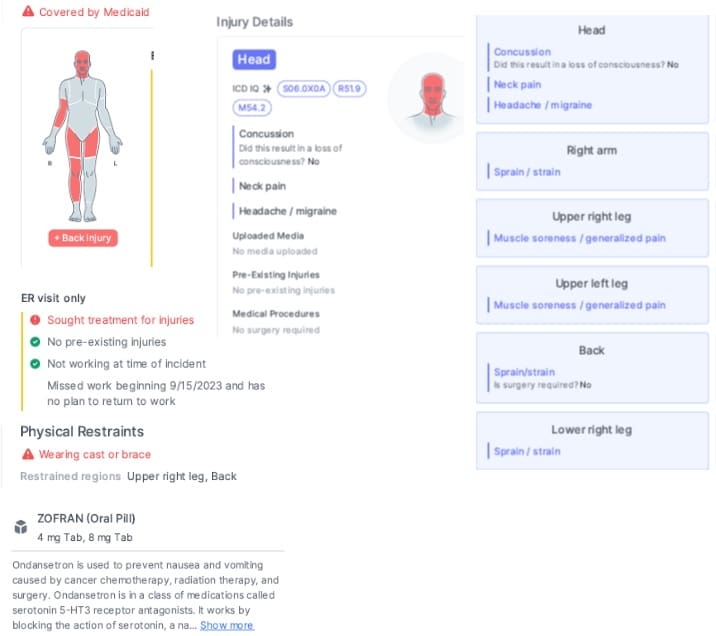 Just for Fun: Homegrown Pineapple
Did you know you can grow a pineapple from the top of a store-bought pineapple?  Neither did Tarun until one suddenly showed up at his house, ready to stab him if he got too close.
The first picture is when the top of an old pineapple was planted in the summer of 2018 by Tarun's wife.  You are forewarned – while the experiment started out easy, this plant gets heavy, large and the leaves are quite sharp.  During the summer, it was stored outside but it had to be brought in before the temperature got too cold each year.  A tiny fruit appeared in spring of 2023 (just before Tarun was ready to throw it out from one too many stabbings.  Tarun is convinced the plant overheard him the evening before and, out of desperation, produced the tiny pineapple in the third photograph).  This September it was finally ripe (rightmost photo).
You read that right – five years to get a Missouri pineapple!  The fully grown pineapple was about half the size of the ones from Hawaii but smelled amazing (more flowery than fruity)!  It tasted like a pineapple but slightly more sour than the super sweet ones in the stores.  Overall, the plant was deemed 'worth the trouble', if only to to say it could be done.  If anyone tells you there is no way pineapples can be grown in the middle of America, you can tell them about this crazy lawyer you know!